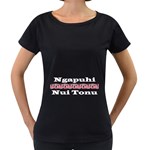 Ngapuhi Nui Tonu Maternity Black T-Shirt by Maori Creations
The design used for this Ngapuhi Nui Tonu T shirt is the mangopare, or hammerhead shark which frequents the waters around Ngapuhi and the Tai Tokerau.

Cap-sleeve hip-length. Maternity t-shirt can act as a public announcement, and it is also the perfect gift for the expecting mum.
More Info / Purchase this product from Maori Creations
-
View other Maori Creations products
in the Maori Mega Mall
If you have not found what you are looking for, you can Request An Iwi Product

Visit Maori Creations website for their full range of products
---
More Products from * Ngapuhi >> T-Shirts: Maternity
<< Back to the T-Shirts: Maternity category